The quality of the clothes purchased from our School Shop is extremely good and also excellent value for money with the added bonus of all profit going back into the School.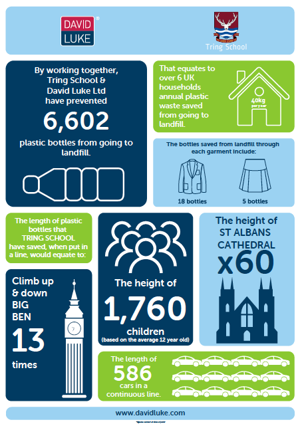 We are pleased to be able to offer a range of branded school uniform and PE kit. We also sell non-bespoke items such as shirts, blouses, stitched down knife pleated skirts and trousers and, like the branded items, they are great quality and excellent value – we regularly compare our prices to popular high street brands.
The uniform shop also provides an efficient service to our students and parents/guardians for sizing, purchasing and exchanging items of clothing.
Please place orders online through WisePay (available 24 hours). If you are unable to login to WisePay please contact finance@tringschool.org
Please allow a minimum of 5 working days from order to collection, you will receive an email notification when your order is ready for collection from reception. Please collect your order within 5 working days of receiving your email. If a refund or exchange is required please ensure that all items are returned in original packaging with tags attached, hand the item back to reception and fill in a returns form be aware that whilst we do our utmost to process the exchange/ transaction quickly, for credits this process can take up to 2 weeks to be credited back into your account paid with.
For information about our Second Hand Uniform Shop please click here.
School ties and stationery are available for students to buy from the Stationery Shop in the Learning Resource Centre – open from 8.00am every weekday.