World Challenge is the leading provider of life-changing school expeditions which are designed to develop important life skills, helping students to:
Develop teamwork and leadership skills
Gain confidence and self-esteem
Become more globally aware
At Tring School, we offer a 2 week Adventure for Year 9 students and a 3 week Expedition for Year 11 and 12 students. To learn more about World Challenge please Click Here
Click here to see the slide show of the Year 9 Cambodia 2019 adventure.
The World Challenge ethos
CHALLENGE
Global citizenship is one of the key aims of the World Challenge programme. Challengers will experience cultures and environments literally a world away from their home country. This brings an appreciation of the challenges facing other communities and hopefully will awaken a desire to understand, explore, and develop a global perspective on life. It is a truly life-changing experience.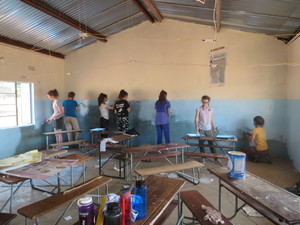 PARTICIPATION
Challengers are expected to take ownership and responsibility for their team mates and the group's plans, and this focus is at the centre of the World Challenge learning experience. Participation and teamwork are essential factors behind any successful expedition; it is up to the individuals working together within the team whether or not they will get to that bus stop on time or have a well put together meal that night!
ENVIRONMENT
World Challenge provides a safe yet challenging expedition through which its leaders support and facilitate the development of the young people in its care through tough but exhilarating experiences. They allow the exploration of comfort zones, promoting personal growth, independent thinking, and resourcefulness, all key qualities to help build successful and fulfilling lives.
SAVE THE DATE 28 February 2020 - Quiz Night
For copies of letters emailed home please head to TS Parents at the top of the home page of our website then click on Letters and select the category World Challenge.
WORLD CHALLENGE EXPEDITION for current Years 10 and 11 TO india - 2021
Our Launch Meeting has now been booked in, which means it's time for the adventure to begin!
Where? TRING SCHOOL DINING HALL
When? TUESDAY 3rd DECEMBER – Challengers from 4PM and Parents from 530PM
With Whom? HANNAH POWER will be coming in to run the meeting
What to Bring? A photocopy or photo of your passport on your phone
What Will We Be Doing?
Getting to know our destination and the people we'll be getting to meet
Finding out how to prepare yourself and what support is on offer from World Challenge
Arming yourself with the tools needed to start earning your place
Click here to head to the World Challenge website (India).
WORLD CHALLENGE ADVENTURE for Year 9 to Eswatini (formerly know as Swaziland) - 2020
Teams have now been finalised for the 2020 expedition to Eswatini (formerly Swaziland) and regular meetings with school leaders are fully underway. We had our first training walk on Friday 8th November, a little chilly and with some very excitable cows but an overall good start of the bonding experience for the teams!
The next few dates to be aware of are:
Wednesday 4 December 3.30 to 7.00pm - Year 7 parents' evening (team 2)
Friday 13 December & Friday 10 January 3.30 to 5.30pm - second & third training walks (all teams)
Wednesday 15 January 5.30 to 6.30pm - parent & challenger meeting in the Dining Hall. On the agenda:
quiz night
kit info
training weekends
vaccinations & visas
We are all very excited as we set out to prepare for our expedition to Eswatini. Keep updated on our progress through the school website or on Twitter (coming soon!).
Click here for World Challenge information about the adventure to Eswatini.