World Challenge is the leading provider of life-changing school expeditions which are designed to develop important life skills.
Inspiring Leadership through student-led expeditions - since 2015, Tring School has sent out multiple expeditions led by the students. As soon as the coach departs for the airport, the challengers are in charge of timings and decisions, from getting us through departures to navigating across a capital city halfway around the world.
Shaping global citizens through tailored journeys of culture - in the build up to the expedition, teams look at sustainable travel and research the culture they will be visiting with. The aim is to take students out of their bubbles, expanding their minds through the sharing of cultures.
Taking the road less travelled with new friends - the opportunities on a world challenge expedition are like nothing you would get on holiday. The treks are off-track, the communities are local and rural, and the scenery is out of this world. Students are often placed with others they don't really know, before making shared memories for life.

To learn more about World Challenge please

Click Here.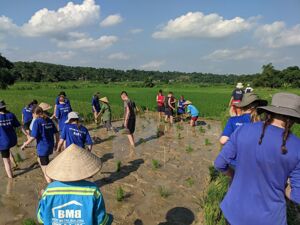 Click here to see the slide show of the Year 9 Cambodia 2019 adventure.
---
Ecuador 2023
We currently have a group of 12 students working towards their three-week expedition in the summer from Years 11, 12 and 13. They recently ran a fundraising quiz night and raised nearly £700 which will go towards a community project, trek, and cultural exchange. We would like to thank anyone that came along and supported the event.
Nepal 2023
Miss Perry is meeting regularly with her Year 9 students working towards their two-week expedition to Nepal in the summer.
More information will be coming out for both expeditions before Easter regarding Training Days, pre-departure meetings, the camping weekend and Build-Up Day/ departure itself.
---
Future Expeditions
Expeditions for 2024 and 2025 will be launched in the summer term, so if you are in Year 8, 10, 11 or 12 then watch this space!
---
Keep in touch
For copies of letters emailed home please head to TS Parents at the top of the home page of our website then click on Letters Home and select the category World Challenge.
Our Tring School Facebook page posts regular updates.
---
Presentation by two of our students heading to Ecuador
Explaining why we won't be visit orphanages whilst in-country. It's a core principle of travelling sustainably and has been well researched by our students. Please click on the three dots on the lower part of the slides to enlarge the presentation.
---