Our Chaplains are an asset to our school. They are a clear expression of our Christian ethos, working with the whole school community, offering pastoral support to students and staff.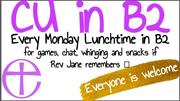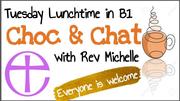 Our Chaplains, Rev Jane Banister and Rev Michelle Grace, contribute to school life in several ways, including leading Collective Worship and hosting weekly Christian Union and Choc & Chat drop-in groups. They also help in delivering our Life Skills lessons. In addition our Chaplains lead prayers with staff on a weekly basis for those that wish to take part. They also help the whole school in times of crisis such as bereavement and they support the leadership of the school. The Chaplaincy is funded by the Tring Team Parish.
Collective Worship
Whilst students are Learning from Home we are able to share our Collective Worship online.
Pentecost
These are examples of our Collective Worship within school.
Communion Service
Every half term we hold a service for both students and staff - everyone is welcome, whether out of curiosity or for your faith.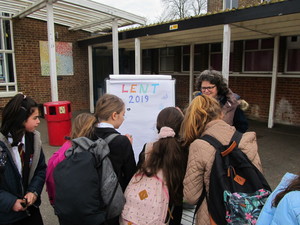 Lunchtime in the Quad
Top: Mrs Watkins working with students on the fabric wall hanging of The Cross made by recycling and repurposing old school uniform - the finished hanging is on display in reception.
Middle: Reverend Jane chatting with students and encouraging them to think about what they could give up for Lent.
Extended Learning Day
Bottom: Reverend Michelle helping students to create a new fabric wall hanging of A Dove of Peace made using old school uniform from Tring School and Grove Road Junior School.