Music
Music is a major strength of Tring School and the standard of music both in curriculum time and in our flourishing extra-curricular programme is a great source of pride. Music plays a central part in the life of the school and every pupil is encouraged to take part. At all Key Stages, we aspire for our pupils to become creative, self-confident individuals, with a passion for Music of all genres.
Tring School Music Department is warm and vibrant and aims to create a learning environment that is enjoyable, inspirational and engaging. We pride ourself on our student leadership in Music and many extra curricular groups are assisted by Sixth Former students with a passion for encouraging younger students to access music at all levels. As a department, we aspire to deliver a curriculum that not only fosters all our students' musical and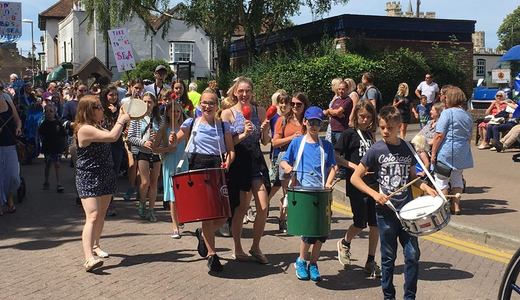 intellectual curiosity, but also provides every child with the opportunity to become an active member of a musical world.
Celebrating Success: academic and instrumental lessons.
We pride ourselves on our Music results and in 2017, our students achieved 100% A*- C grades. Our GCSE pupils achieved 93% A*-C, with particularly high marks in composition and performance. Many of our students choose to study Music at University and many of our past pupils still enjoy performing and teaching. Instrumental lessons take place every day in the department and are taught by a specialist team from Hertfordshire Music Service. These are offered on a rotation basis and we encourage pupils to perform in recital concerts and we are always celebrating exam successes for pupils taking both Trinity and ABRSM exams.
Twitter
To keep up with all our events and celebrations please follow our Twitter account @TringSchMusic
Key Stage 3
All students study a broad range of styles which incorporates composing, performing, listening and appraising skills. They take part in both group and paired activities and are assessed on their practical projects.
In Year 7, students are introduced to the basic elements of music. Pupils discover different ways of using their voice and find out about extended vocal techniques and how these can be represented using a graphic score. Projects also involve exploring the instruments of the orchestra, programme music and rhythm raps, focusing on notation. We also give all of our Year 7s the experience of learning the trumpet.
In Year 8, students apply their knowledge of rhythm to world music, including African and samba drumming. They have the opportunity to learn the ukulele, write their own songs, and use ICT to create their own topical raps. The also explore music of the 20th Century.
In Year 9, we adopt an 'independent learning' approach, using Musical Futures as our model. Pupils look at writing their own pieces of popular music, as well as learning about the culture of Blues music, Rock'n'Roll and music in film and musicals.
Key Stage 4 - GCSE
At GCSE we approach music with a strong emphasis on performing, both solo and ensemble, listening and composing. Pupils get the opportunity to work alone, in a class setting and in small groups. Pupils study 8 set works in the four different areas of music listed below and will answer questions on these as part of their listening exam, which is worth 40% of the GCSE. Pupils perform at regular intervals throughout the 2 year course on their chosen instrument, in preparation for a final solo and ensemble performance which contributes to 30% of the final grade. Pupils also submit two unique compositions, one free and one set brief, making up the final 30% of the GCSE.
ENRICHMENT AND EXTRA-CURRICULAR
The department provides numerous opportunities for students to participate in many different types of performances within school, in the local community and on tour. A range of groups is on offer and students are actively encouraged to participate in these groups. There are currently five choirs; senior and junior, as well as a girls' choir, male voice choir and a smaller chamber choir. We offer two wind bands, a swing band and junior and senior rock bands, as well as numerous smaller ensembles such as flute group, string group and percussion group. All these ensembles regularly perform at school concerts as well as numerous events across Tring and collaborative projects across Hertfordshire Schools. There have also been several successful European concert tours in recent years. Please head to the Clubs & Extra Curricular page of the website to see the full range of music sessions available to students.
MUSIC DEPARTMENT
| | |
| --- | --- |
| Director of Academic Music | Mrs E Smith |
| Director of Extra Curricular Music & KS3 Coordinator | Miss E Hicks |
| | Mrs R Georgiades - Assistant Headteacher |
| Performing Arts Technician | Mrs A Travers |