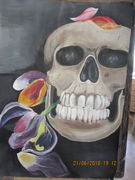 The Art Department's intention is to enrich the lives of all students and to instil a love of, and appreciation for, all forms of art. We develop students' practical skills through drawing, sculpture, print, performance and painting. We hone analytical and critical judgement skills, develop cultural awareness, and build students' confidence to explore their creative narrative.
We aim to develop students' intellectual, imaginative, creative and intuitive capabilities; their investigative, practical, technical and expressive skills, and their aesthetic understanding. Students demonstrate independence of mind in developing, refining and communicating their ideas, their intentions and their personal outcomes.
Our students are visually literate, empathic and inclusive; willing to challenge and question, accept and assimilate, the views and opinions of others.
Our teachers are very experienced, well-informed and practitioners in their own right. Their many and varied experiences are often used as starting points for projects; pottery, sculpture, print and photography projects have been taught by the highly skilled teaching staff. The Art Department at Tring is furnished with a working Pottery for ceramic projects - a small kiln, used for experimental work and a larger kiln for outsized pieces. There is also a dark room including all that is required to produce film and digital pictures.
Key Stage 3
Course Content
The KS3 course at Tring School is aan exciting one. It teaches our students to be visually literate, encourages them to experiment, take risks and play. Emphasis is placed on learning about the formal elements and demonstrating an understanding of them; with this knowledge and these skills, ideas can be realised. Each project is aimed at teaching students the importance of drawing from direct observation; this is the starting point for every artist's body of work.
Projects are designed to introduce our students to a wide range of artists, themes and topics, and we encourage them to use the world around them as inspiration. Students are given the opportunity to experiment with a wide range of materials, from painting to mixed media work, from ceramics to printing. Sketchbooks are used to explore ideas, techniques and materials and the skills developed throughout a project enable our students to produce exciting, individual and unique outcomes.
During Year 7 and 8 students will focus on developing their skills in and understanding of the formal elements.
In Year 9 they will undertake GCSE style projects, applying their knowledge to more complex projects and addressing a higher level of assessment criteria.
The Art Department is a safe and positive learning environment which allows our students to feel that they can challenge themselves, they can be creative and experimental in their work and comfortable discussing and showing their outcomes. Our students develop artistic confidence and many go on to study Art at GCSE. All the classrooms are used at lunchtimes by students from all year groups to continue their own practice.
All Key Stage 3 classes are mixed ability groups.
KEY STAGE 4 – GCSE in Fine Art
Exam board: AQA
Qualification: GCSE in Fine Art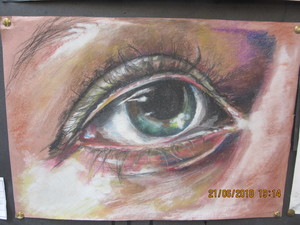 Specification: Fine Art, code 8202
Course Content
The GCSE course has two parts; the coursework produced over two years, and the Externally Set Assignment (ESA) performed at the end of the two years.

The coursework material, in the form of sketchbooks and finished pieces of work, are produced in school, supported by substantial homework. The coursework is arranged into projects undertaken across the two years. Each project is a response to a specific theme and it is hoped that students learn to develop their own ideas, practical skills and outcomes during the course.


The main focus throughout the course is drawing from observation which usually leads to a variety of developments in two and three dimensional work accompanied by references to artists, art movements and cultures.
Assessment
The ESA takes place during the Spring Term in Year 11. After the preparatory period students take a 10 hour exam in which a finished piece of work, either 2D or 3D, is produced. The exam is a response to an externally set theme and work is developed in the same way that the coursework is. Teachers work with students to help them develop original and interesting ideas in response to the set theme, making sure that all assessment objectives are addressed.
The ESA is marked internally, together with the coursework. Work is then moderated by an examiner from Edexcel. Students' overall work is displayed in an end of course show, which parents, friends and other visitors attend.
WHO IS THE COURSE FOR?
Anyone who likes Art and who is willing to work hard. Students who take Art GCSE learn to think in creative and experimental ways, and are encouraged to challenge themselves, to take risks and to look a the world outside the classroom.
Enrichment and extra-curricular
Tring School Art Department has hosted a range of enrichment activities, with the local primary schools and with other secondary schools in Hertfordshire. We work closely with Tring Park Arts Society and have run projects in conjunction with them and Tring Natural History Museum. A Level work has been shown at The Mall Gallery in London as part of the National Students Art Exhibition, and we have also had work shown at the Burger King Head Office. Students from Tring Park Performing Arts School attended a 'Film Camera and Darkroom' training day with us recently.
Extended Learning Days are always busy for the Art Department and excellent opportunities for cross curricular work. Collaborative work with Drama and Music has been very successful in the past and we are developing close ties with Science.
Key Stage 3
Pottery Club is one of the most popular after school extra curricular activities and often has a waiting list. Art Club is run by our sixth form Art students and we are hoping that some of our Photography students will organise a Photography Club to teach younger students how to develop a film without using a computer.
Key Stage 4
Students are given the opportunity to attend two Art trips, one in Year 10 and the second in Year 11. In the past we have taken students to The Pitt Rivers Anthropological Museum and The Ashmolean in Oxford, Tate Britain and Tate Modern, The Victoria and Albert Museum and The Royal Academy of Arts.

Students are also encouraged to visit local galleries as part of their homework. Students are encouraged to use what is at hand to develop their knowledge and understanding of, and practical ability with, the formal elements of composition, tone, form, line and colour. Landscapes, buildings, natural forms and people are typical subjects studied for GCSE Art, Craft and Design.
ART & PHOTOGRAPHY DEPARTMENT
Subject Leader
Miss S Gomersall
Mr B Woolf

Miss

H Stephenson
Miss K Leigh
Art Technician
Mrs E Clark
Gallery