Learning from Home
Schools premises have had to close for the time being, which has resulted in parents and carers across the country facing the task of helping their children to continue their learning from home.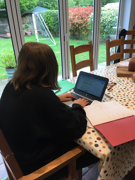 We wanted to allocate an area of the website that answers some of your common questions regarding learning from home, the programmes we are using, where we could share useful resources and
Give support on health & Wellbeing
Help students to find websites to aid their learning
Offer students access to our eBook and audiobook library while the print library in school is closed
Encourage students to find interesting audiobooks and podcasts for wider learning
We will be updating this area of the website as useful information becomes available for you. If you have any questions about anything highlighted here, have resources yourself that you feel other families would benefit from during the lockdown, or anything else, then please email us at tringschool@tringschool.org
Below are the hours for school lessons and breaktimes.
Summer Timetable
9.05 - 10.05am
Period 1
10.05 - 11.05am
Period 2
11.05 - 11.35am
Breaktime - 30 minutes
11.35am - 12.35pm
Period 3
12.35 - 1.20pm
Lunchtime - 45 minutes
1.20 - 2.20pm
Period 4
2.20 - 3.20pm
Period 5
3.20pm
Lessons finish