Counselling
School Counselling Service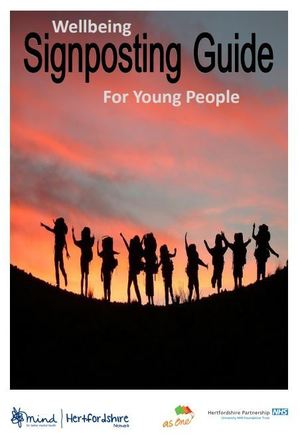 The school has a Counsellor who works Monday - Thursday and a part time counsellor one day a week plus several volunteer counsellors who come into school one morning each week. Students meet their counsellor once a week following a mutual agreement between students, parents and the school. There is also a facility for pupils to refer themselves to a counsellor, in which case parents would not necessarily be informed. Our Counsellor is qualified and a member of the BACP and has been a member of Tring School for a number of years.
Healthy Young Minds in Herts
For information on emotional health and wellbeing support available for children and young people in Hertfordshire please head to https://www.healthyyoungmindsinherts.org.uk/
Please click here to see their Signposting Guide for Young People.
Websites for Teenagers Wellbeing
Suicide Prevention
Hector Stringer took his own life at the age of 18. His family set up Hector's House in his memory as a signposting charity, with the aim to stop suicide and the stigma around mental health issues. Hector's House is a local charity - Hector was a student at Tring School.
CHILDLINE CALM ZONE
There are lots of way to feel calmer. It's about finding what works for you. Try some of the childline calm zone breathing exercises, activities, games and videos to help let go of stress.
Child Safety Online
https://www.childnet.com/ - Online platform for support and advice for young people and their carers.
Please click here to see a guide produced by Internet Matters
NHS - Sleep & tiredness
If you have difficulty falling asleep, a regular bedtime routine will help you wind down and prepare for bed. Click here for healthy sleep tips.
Drug Awareness
For friendly, confidential drugs advice Talk to Frank
Sexual Health & Wellbeing
https://www.servicesforyoungpeople.org/support-for-young-people/services-for-young-people-access-point-projects/sexual-health-services/ - local support for young people in Hertfordshire
Go to Brook for advice
Quit Smoking
The under 18s guide to quitting smoking Livewell & Quit Smoking
Childline
Childline is yours – a free, private and confidential service where you can be you. Whatever your worry, whenever you need help, however you want to get in touch. We're here for you online, on the phone, anytime.
Headspace
Learn to meditate and live mindfully with Headspace.
Action for Happiness
Action for Happiness helps people take action for a happier and more caring world
Our patron is The Dalai Lama and our members take action to increase wellbeing in their homes, workplaces, schools and local communities. Our vision is a happier world, with fewer people suffering with mental health problems and more people feeling good, functioning well and helping others.
Anna Freud - Transforming Children's Mental Health
Our vision is a world where children and families are supported effectively to build on their strengths and to achieve their goals in life. We will continue to promote resilience and wellbeing in children, young people and families, as we have for over 60 years.