The Sixth Form experience is about more than gaining academic qualifications – although this is of utmost importance. We place great emphasis on ensuring that our students are also well rounded individuals. We pride ourselves in offering a wide range of responsibilities and activities from Head Boy and Girl and their Deputies, House Captains and the Social Committee.
In total we offer over sixty positions of responsibility. These provide students with an opportunity to develop their interpersonal skills and give something back to the wider school community. These additional roles and responsibilities also add credibility to both job and UCAS applications.
Head Boy and Girl Team
The Head Boy, Head Girl and their deputies are regarded as ambassadors of the school by staff, governors and parents and are looked up to by younger pupils. The Head Boy/Girl Team should set exemplary standards at all times, though they have a number of specific areas of responsibility:
Upholding the aims and objectives of the Sixth Form and Tring School, specifically to promote a positive profile of the Sixth form within the school
Acting as student representatives on the school governing body
Representing Tring School, playing a part in presentation evenings, open evenings and showing prospective staff and students around the school
Taking a lead role in the running of the School Council
Liaising closely with the Student Leaders of Sixth Form
Working closely with the Head Teacher and the Head of Sixth Form
Promoting student voice in school improvement initiatives, student issues etc.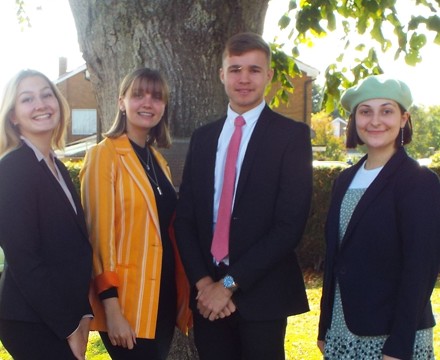 Sixth Form Committee
The Sixth Form Committee is made up of both Year 13 and Year 12 students and is an excellent way of gaining valuable skills for use in life after Tring School.
All students have a voice through the Sixth Form committee. This committee organises social events, fundraising, and makes recommendations to staff. In recent years they have arranged and overseen a large number of fund raising events, produced year books and organised socials throughout the year including the highly acclaimed May Ball.
Please note that Sixth Form socials are organised by students and are not attended by staff.
House Captains
The role of House Captain is one of privilege, pride and responsibility. It is more than just a title and badge (or a line on a UCAS application) and requires dedication and commitment for an entire year. Each Captain will be different and will contribute an assortment of skills and ideas to the job. We have the following roles:
House Captain
Sport Captain
Art Captain
Charity Captain
Eco Captain