Tring Talk Student Council
Our student council is called Tring Talk. Any student can nominate themselves to be part of this group. We meet every month for an informal discussion and once a half term for a formal meeting.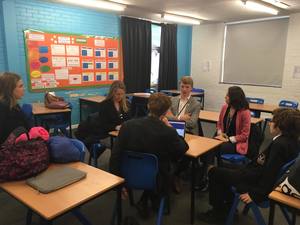 At our monthly meetings students have the opportunity to give feedback, ask questions and make suggestions. It's a great forum for students to have their say and get answers to questions that they have about the running of and the future of our school.
At the formal meeting we share important information with the students and debate current school issues, for example use of tutor time or our new assessment policy.
Tring Talk gives every student at Tring the opportunity to be heard. We advertise it regularly to remind students that it is there for them to come and share their thoughts and ideas.
Meeting time, date and location are shown on the student notices and on the Diary This Week page of this website.