Character
What is Character Education?
Character education aims to education the child as a whole. Tring School is fully committed to helping young people become responsible, caring and contributing citizens by demonstrating our key character traits; Determination, Curiosity, Independence and Communication.
Character education will be embedded at Tring School in the following ways: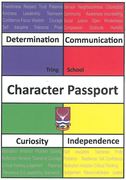 Ethos, Culture and Vision
ethos
environment / celebrations
expectations
Curriculum
explicit teaching in lessons
behaviour for learning
tutor programme and assemblies
Learning Outside the Curriculum
extra curricular
voluntary work
leadership
community
Character Passport
Pupils have been distributed a Character Passport and will be rewarded for their participation for curricular and extra-curricular activities.
Achievement Suggestions
Apply one of the Character skills
Achieve an excellent assessment result
Improve on your previous assessment result
Ensure you have excellent attendance
Attend or request extra support from your teacher
Complete a detailed piece of homework
Act on feedback given by your teacher to improve your work
Participate in a group task
Present confidently in front of your class
Contribute in class discussions
Read extra books/articles, listened to podcasts or watch documentaries related to your subject
Go out of your comfort zone and approach a task in a new way
Lead an activity
Volunteering Suggestions
Run an Enterprise stall at an enterprise market
Involve yourself in a youth club
Collect litter
Look after someone less fortunate than you
Offer to help rather than waiting to be asked
Help in a local school or hospital
Help at annual local Tring events
Support a local charity or organisation
Support younger students with their learning
Clubs Suggestions
Join a music club (singing, playing an instrument or both!)
Join a sports club (seasonal)
Participate in an arts club
Join a Science club
Get involved in a social club (Choc n' Chat, CU)
Get involved in the pottery club
Get creative at a drama club
Participate in extra-curricular clubs outside of school (Scouts, Youth club, Young Farmers Club, Pony Club)
Get creative at the origami, craft or reading club
House Suggestions
Get involved in one of the many house competitions
Help the teachers organising the competition
Help your Head of House with a task
Mentor a younger student within your form
Coach or train a team
Support your house's chosen charity
Wear your house colour during competitions
Support your tutor by participating in tutor time activities
Wellbeing Suggestions
Participate in Wellbeing Monday tutor time activities
Help others selflessly
Complete a random act of kindness for someone
Track your weekly/monthly wellbeing activities
Work on your own personal resilience
Actively learn about new faiths, cultures and experiences
Support your friends and family in being well (healthy eating, exercise)
Look after yourself by eating well, sleeping at least 8 hours and drinking plenty of water
Apply any of the themes covered in the Wellbeing Monday tutor sessions